EDGE Artix 7 200T FPGA Motor (Inverter) PWM Controller
₹ 80,000
Product Includes
EDGE Artix 7 200T FPGA Motor / Inverter PWM Controller
USB Cable
12v DC Adaptor
In Stock
Description
EDGE Artix 7 200T FPGA Motor / Inverter PWM Controller features the most powerful and high-density FPGA from Xilinx Artix 7 FPGA family.  It contains XC7A200T FPGA with logic cells of 215,360, which is 6.5 times more logic elements than our mid-level XC7A35T FPGA board, 740 high-performance digital signal processing (DSP) slices that can tackle compute-intensive functions such as PID Controller, Clark/Park transforms, and Space Vector PWM.
EDGE Artix 7 200T FPGA Motor / Inverter PWM Controller includes all the important features to implement motor drive applications such as Isolated onboard power module, Isolated USB UART, 16-channel bipolar ADC with an operating range of -10v to +10v, 8-channel unipolar ADC, 8-channel DAC, USB 2.0 communication which can send high-Speed data to PC, 64 no of 5v I/O, 36 no of 3.3v I/O, 20x4 LCD, USB JTAG, 50MHz onboard clock which can be multiplied up to 400MHz, 8 SPDT Switch, 8 LED and 4 Push Buttons.  Also includes Wi-Fi/Bluetooth module. So, all the feedback and sensor data from the motor drive applications can be monitored from the cloud (IoT) through Wi-Fi or it can be remotely controlled through Bluetooth.
EDGE Artix 7 Motor / Inverter PWM Controller Board's power of programmability gives industrial automation designers a highly efficient to traditional motor control units (MCUs). The parallel-processing power, fast computational speeds, and connectivity versatility of Xilinx® FPGAs can accelerate the implementation of advanced motor control algorithms such as Field Oriented Control (FOC).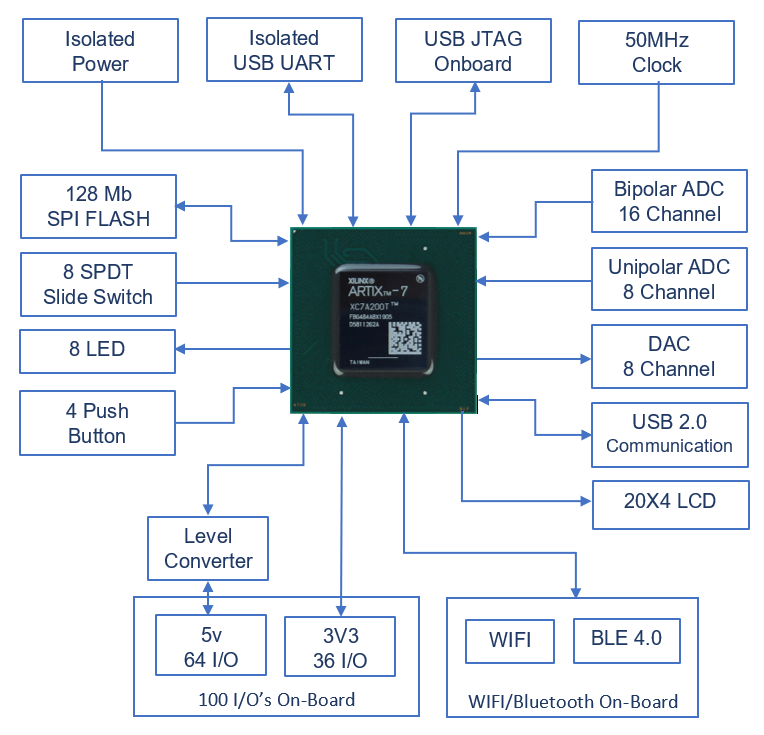 EDGE Artix 7 200T FPGA Motor /Inverter PWM Controller
USB Cable
12v DC Power Supply
User Manual
Example Codes for all the Interfaces
Product Enquiry / Request for Quote
We usually reply within 2 - 3 hours on (Mon-Sat 9AM - 6PM).

Additional information
FPGA

Artix 7 XC7A200T FPGA
• 215360 logic cells, 13455360 BRAM bits
• 740 DSP48 slices for computing DSP algorithms
• 10 clock management blocks for PLL and DCM.

USB JTAG

Onboard USB JTAG for programming
Fully Compatible with Xilinx Vivado Design Suite and ISE

USB UART

Isolated USB UART

USB Communication

USB 2.0 High Speed Communication

Power

Onboard Isolated Power

SPI FLASH

128Mb FLASH Memory

wireless communication

WIFI/Bluetooth for wireless communication

Slide Switch

8 SPDT Slide Switch for user input selection

LED

8 LED for user output

Push Button

4 Push Button for User Input
1 Push Button for Reset

LCD

20X4 LCD

Clock

50 MHz Clock

Bipolar ADC

Bipolar SPI ADC
• No of ADC input: 16 Channels
• Resolution: 16 bit
• Sampling rate: 1MSPS
• Analog input range: ±10V(*BIPOLAR)
• 20-pin headers for ADC input.

Unipolar ADC

Unipolar SPI ADC
• No of ADC input: 8 Channels
• Resolution: 12 bit
• Sampling rate: 1MSPS
• Analog input range: 0 – 3.3V
• 10-pin PTB connector for ADC input.

DAC

SPI DAC
• No of DAC output: 8 Channels
• Resolution: 12 bit
• 10-pin PTB connector for DAC output

I/O Connector

100 I/O
• 2 no's of 40 pin headers for PWM Outputs and Capture
• Inputs – 64 I/O's (5v range)
• 40 pin headers for GPIO line termination – 36 I/O's (3v3 range)