Low Cost and Feature Packed FPGA Development Kit for Beginners.
8500 INR / 132 USD
Best Rated and All in One FPGA kit to work with Latest Xilinx Vivado Design Suite.
12500 INR / 175 USD
The ultimate FPGA kit for Academic Projects
On-board USB Programmer, WiFi/Bluetooth Connectivity, ADC/DAC Converter, Camera/Display Interface, VGA/HDMI Display Port and Lot of Switches and LED's
EDGE Spartan 6 FPGA Development board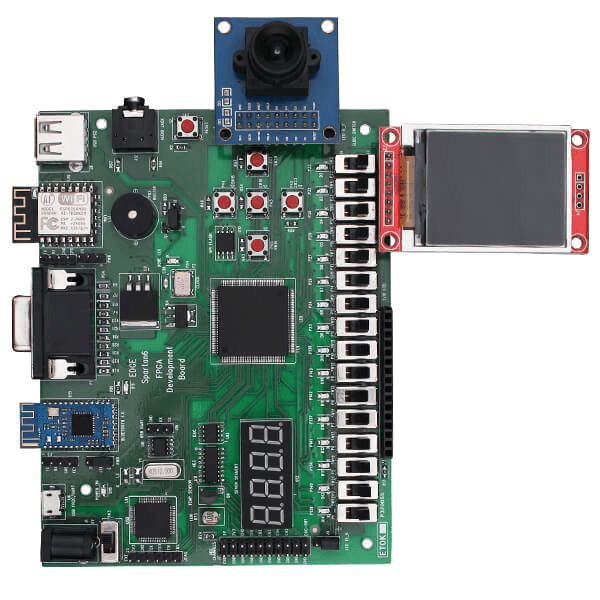 EDGE Spartan 6 FPGA Development board is the feature rich development board with Spartan 6 FPGA, SPI FLASH, ADC, DAC, LCD, 7 segment Display, WiFi, Bluetooth, CMOS Camera and TFT Display.
The EDGE Spartan 6 board is fully compatible with Xilinx ISE, EDK, System Generator and ChipscopePro Tools at ease with on-board USB JTAG Interface. Xilinx offers free WebPACK™ versions of ISE tool for working.
EDGE Artix 7 FPGA Development Board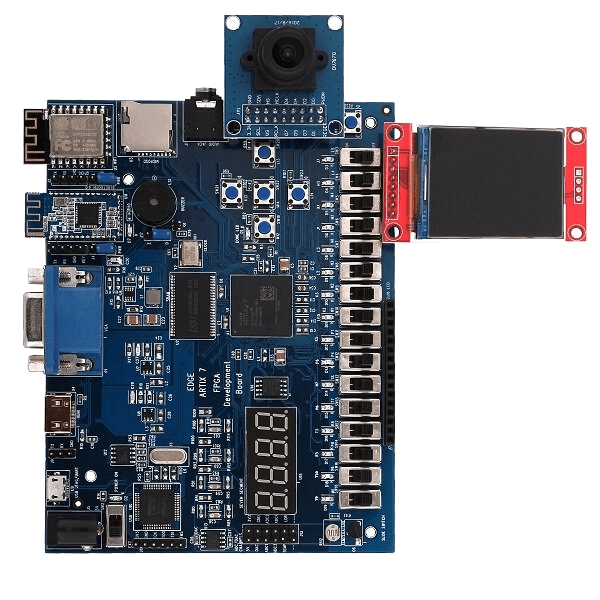 EDGE Artix 7 FPGA Development board is upgraded version of EDGE Spartan 6 board. It is exclusively designed for the latest vivado Design Suite.
The EDGE Artix 7 board includes most of the interfaces present on EDGE Spartan 6 board plus external memory SRAM, HDMI Out and Micro SD interface. Microblaze softcore processor design can be easily implemented with SRAM using vivado SDK.
Choosing the right FPGA Kit?
EDGE Spartan 6 VS Artix 7 FPGA Kit!
Haripriya R
Chennai, India
Ambuj Maurya
Bangalore, India
Frequently asked questions
Which software is required for programming the EDGE Boards?
EDGE Spartan 6 FPGA Kit works with Xilinx ISE 14.7 Free Web Edition Software.
EDGE Artix 7 works with Xilinx Vivado 2018 Free Web Edition Software.
Does the EDGE Boards require external 5 V adapter?
By Default EDGE Boards are powered through the USB port. External 5 V power adapter is optional. It is required only when the application require higher current then USB .
Are there distributors for EDGE boards in other countries?
Currently, we are selling EDGE boards only from allaboutfpga.com . We ship the product to most of the countries worldwide.
What kind of support will be provided after the board is purchased?
We will provide support related to installation and tool working. Also example codes for the EDGE board will be provided.