The ultimate FPGA kit for Academic Learning
EDGE FPGA kits are fully compatible with Free version of Xilinx Design Tools, so designs can be implemented at no additional cost.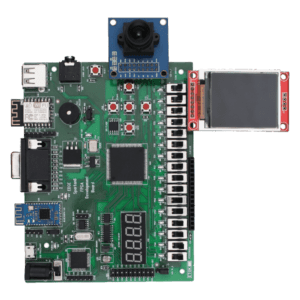 EDGE Spartan 6 FPGA Development board is the feature rich development board with Spartan 6 FPGA, SPI FLASH, ADC, DAC, LCD, 7 segment Display, WiFi, Bluetooth, Buzzer, Stereo Jack, CMOS Camera and TFT Display.
The EDGE Spartan 6 board is fully compatible with Xilinx ISE, EDK, System Generator and ChipscopePro Tools at ease with on-board USB JTAG Interface.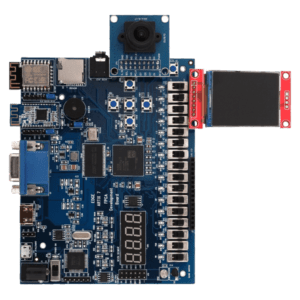 EDGE Artix 7 FPGA Development board is upgraded version of EDGE Spartan 6 board. It is exclusively designed for the latest vivado Design Suite.
The EDGE Artix 7 board includes most of the interfaces present on EDGE Spartan 6 board plus external memory SRAM, HDMI Out and Micro SD interface. Microblaze softcore processor design can be easily implemented with SRAM using vivado SDK.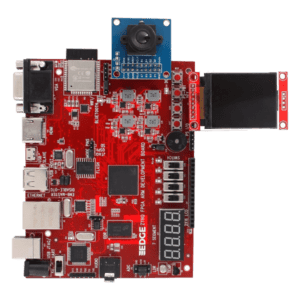 EDGE ZYNQ SoC FPGA Development Board is a feature rich and high-performance Single Board Computer built around the Xilinx Zynq Z7010/Z7020 FPGA. It features integrated dual-core ARM Cortex-A9 processor with Xilinx 7-series FPGA.
It features Xilinx ZYNQ SoC, 512MB DDR3 SDRAM and 16MB QSPI Flash USB-to-UART, USB OTG, Gigabit Ethernet, HDMI, USB JTAG, Micro SD, WiFi, Bluetooth, ADC, LCD, 7 Segment and lot more.
EDGE Spartan 6 FPGA development board is an excellent kit for beginners like me. This provides feasibility approach to test our ideas as well. Because of the features included with kit.
Build quality of the board is very good. The features provided are excellent for the price. Manuals are reasonably comprehensive, easy to follow for a beginner. An ideal way to explore the Xilinx Vivado software.
In this IoT project, we are Monitoring Temperature, Light Intensity and control the home appliances such as air conditioner and light over the internet ThingSpeak cloud using EDGE Artix 7 FPGA kit. Home owners will be able to receive feedback status of the room temperature and dark level continuously on mobile and they can control ...
Read more
















Start your FPGA learning with EDGE FPGA kits!