EDGE Artix 7 FPGA Development Board
₹ 12,500
Product Includes
EDGE Artix 7 FPGA Board / 2×16 LCD / USB Cable
48 in stock
Description
EDGE Artix 7 FPGA Development board is upgraded version of EDGE Spartan 6 board. It is exclusively designed for the latest vivado Design Suite. The EDGE Artix 7 board is build around Xilinx Artix 7 XC7A35T FPGA IC. The features includes external memory SDRAM, HDMI Out, Micro SD, WiFi, Bluetooth, ADC, DAC, LCD, 7 Segment, camera, TFT, Buzzer, Switches, buttons and LEDs interface. Microblaze softcore processor design can be easily implemented with SDRAM using vivado SDK.
EDGE FPGA kit is ready to use Laboratory kit for ECE Curriculum. It can be useful for developing basic to advanced level digital circuits.
Advantage of EDGE FPGA kit is easy to implement plenty of applications ranging from Wireless control, Image/video Processing, Internet of Things without additional interfaces.
Xilinx offers free WebPACK™ versions of Vivado design suite, so designs can be implemented at no additional cost.
Xilinx XC7A35T Artix 7 FPGA IC
256Mb SDRAM
8MB SPI FLASH Memory
On-Board USB JTAG Programmer
USB to UART Interface
CMOS Camera
SPI TFT Display
WiFi 802.11 b/g/n
Bluetooth 4.0 BLE
12 bit VGA Interface
HDMI Out
50 MHz Clock
ADC 4 channel
Temperature Sensor
LDR Interface
SPI DAC
2x16 LCD Display
4 Digit Seven Segment Display
Micro SD
16 Slide switches
5 Push Button
5v Buzzer
16 LEDs
31 External I/O's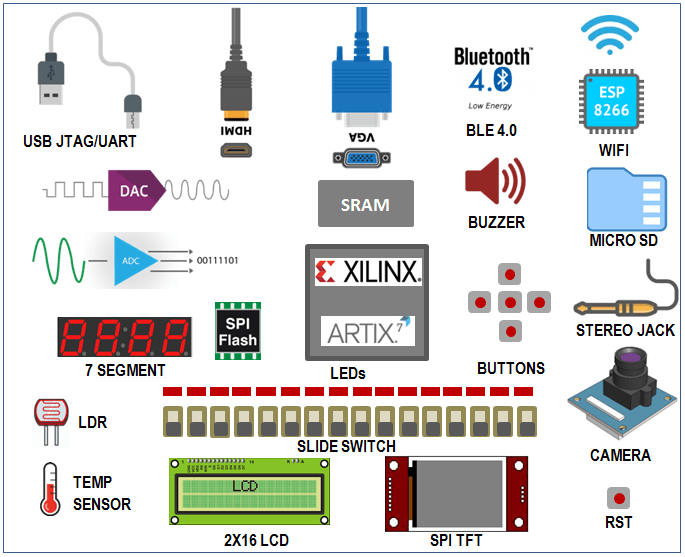 1 x EDGE Artix 7 FPGA Development Board
1 x USB Cable
1 x LCD Display 2x16
CMOS VGA Camera and SPI TFT Display (optional)
EDGE Digital Sensor Addon (optional)
EDGE Motor Addon (optional)
5MP CMOS Camera (optional)
Lab Protection Box (optional)
EDGE ARTIX 7 FPGA Development Board - Intro
Debug Vivado project with ILA core using EDGE Artix 7 FPGA kit
Real Time image and video processing with SDRAM using EDGE Artix 7 FPGA Development Board
IoT Covid19 updates in 2x16 LCD and VGA Monitor using EDGE Artix 7 FPGA kit
Social Distancing with Gesture based Door/ Light Control using EDGE Artix 7 FPGA kit
Stepper, DC, Servo Motor and Relay control using EDGE Artix 7 FPGA Kit - Motor Drive Addon
IoT - Remote Monitoring and Control of Home Appliances from cloud using EDGE Artix 7 FPGA kit
Warranty and Return Policy
Invent Logic warrants its products against defects in materials and workmanship for a period of 90 days from the date of purchase.
If you discover a defect, Invent Logics. will, at its option, repair or replace.
After 90 days, products can still be sent in for repair or replacement. There will be some inspection/labor/repair fee.
Shipping
Free shipping for all the orders within India.
Shipping is done through DTDC/ Professional Courier.
Estimated Delivery time : 1 – 2 days (From the date of shipping)
Flat 25$ USD for all the international orders.
Shipping is done through DHL International Express.
Estimated Delivery time : 3 – 5 days (From the date of shipping)
FAQ
EDGE Artix 7 works with Xilinx Vivado 2018 Free Web Edition Software.
By Default EDGE Boards are powered through the USB port. External 5 V power adapter is optional. It is required only when the application require higher current then USB .
Currently, we are selling EDGE boards only from allaboutfpga.com . We ship the product to most of the countries worldwide.
We will provide support related to installation and tool working. Also example codes for the EDGE board will be provided.
Product Enquiry / Request for Quote
We usually reply within 2 - 3 hours on (Mon-Sat 9AM - 6PM).

Additional information
| | |
| --- | --- |
| FPGA | Xilinx Artix 7 XC7A35T-1FTG256C, 33208 Logic Elements, 1843200 bits of Block RAM |
| SDRAM | 32MB(256Mbit) SDRAM |
| SPI FLASH | 64 Mb FLASH for FPGA Configuration |
| WiFi | ESP-12F WIFI Modem |
| Bluetooth | Bluetooth BLE 4.0 |
| VGA | 12-bit, 4096 Color |
| Camera | OV7670 CMOS Camera |
| TFT | 1.8 inch SPI TFT, 128×160 |
| HDMI | HDMI OUT |
| Sensor1 | LM35 Temperature Sensor |
| Sensor2 | LDR |
| DAC | 12-bit SPI DAC output at J7 Connector |
| Audio | Stereo Jack |
| 7 segment Display | 4-Digit 7 Segment Display |
| LCD | 2×16 Character LCD |
| Buzzer | 5v Piezo Buzzer |
| Slide Switch | 16 Nos of SPDT |
| LEDs | 16 Nos of LEDs |
| Push Button | 5 Nos of Push Button |
| MicroSD | MicroSD |
| JTAG | USB JTAG for Programming and Debugging. Fully Compatible with Xilinx Vivado Tool. |
| UART | USB UART can communicate at different baud rate |
| Clock | 50 MHz Single Ended |